Victrola Key - nickel plated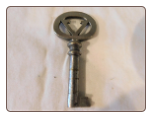 Click to enlarge image(s)
This key will open all Victor Victrola locks from 1913 up to 1925. The key would have been sold with Victrola XI (11) and XIV (14) and Victor Schoolhouse in nickel. It will fit gold plated machines as well.
The key measures about 2 1/16 inches in length. The handle is about 1 inch wide. The V for Victor cutout indicates that this is for a Victor Victrola machine.
Shipping via USPS is included in the cost for domestic shipping.