Victor Exhibition Reproducer. $65 plus shipping.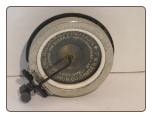 Click to enlarge image(s)

This is a rebuilt reproducer that fits on any Victor Victrola taper arm and U-Tube. These reproducers were used from about 1902 to 1924.
It has a new diaphragm, gaskets and a new rubber back flange. The balance springs are in good shape. It will sound as good as new!

Remember to change your needles every 3- 5 plays on an acoustically recorded record and every play on electrically recorded records with a starting groove.
Domestic shipping and insurance are included in the cost of this reproducer.