Special for Jamer L: Reproduction Steel Phonograph Needles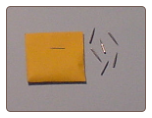 Click to enlarge image(s)
SPECIAL FOR JAMES L - ONE PACK OF LOUD TONE NEEDLES SHIPPED UPS.
Sold in a package of 100, these highly-polished carbon steel phonograph needles provide the loud sound that most people associate with antique phonographs. They should be used once only for electrically recorded 78RPM records, but may be used up to three times for acoustically recorded records. Discard after use.

These needles are not plated. We have found that the plated needles leave plating in the grooves of the records and destroy the sound of your valuable records.