Royal Phonograph circa 1907. $525 plus S/H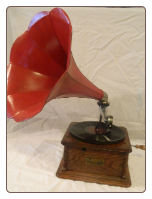 Click to enlarge image(s)
Here is a nice sized rear mount Royal phonograph made by Columbia Graphophone Co. It has a good, strong motor and rebuilt reproducer. The machine plays well and sounds good.

I believe the horn has been repainted and the crank is new.

The machine is from about 1907, has a 10 inch turntable and is reasonably priced at $525.

A pack of loud-tone needles and a record are included in this sale.

Shipment will be via FedEx Ground in two containers. The phonograph will be in a double-walled box. The horn will be in a crate inside a box. Pickup at my home or at the Elkhorn Antique Flea Market is available. I will also visit the Union, IL Phonograph show on Saturday, June 9, 2018 and direct pickup can be arranged there as well. Delivery within 100 miles of of New Berlin, WI can be arranged for $50.00.

Please note that the price shown includes the cost of estimated shipping. If it is less I will refund the difference. If it is more, I will submit a bill for the difference. Thank you for your understanding.
Click here for Elkhorn dates