Victor II Talking Machine. $750 plus S/H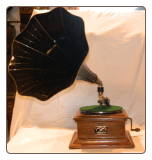 Click to enlarge image(s)
This is a Victor Type II (2) Talking Machine with outside horn. This is a very late model machine, the last model before Victor II was discontinued. Nice looking machine for your collection or living room.

The phonograph is in very good condition and plays well. It has a rebuilt triangle hole reproducer.

The horn has been repainted and pinstriped just like the original.

The machine comes with a pack of new needles.

Shipment will be via FedEx Ground in two containers. The phonograph will be in a double-walled box. The horn will be in a crate inside a box. Pickup at my home or at the Elkhorn Antique Flea Market is available. I will also visit the Union, IL Phonograph show on Saturday, June 9, 2018 and direct pickup can be arranged there as well. Delivery within 100 miles of of New Berlin, WI can be arranged for $50.00.

Please note that the price shown includes the cost of estimated shipping. If it is less I will refund the difference. If it is more, I will submit a bill for the difference. Thank you for your understanding.
Click here for Elkhorn dates