Jingle Bells / Tavern in the Town by Firehouse Five Plus Two. $10.00 plus S/H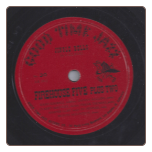 Click to enlarge image(s)
On a 10 inch Good Time Jazz record. This record is in very, very good condition.
Side A: Jingle Bells by Firehouse Five Plus Two
Side B: Tavern in the Town by Firehouse Five Plus Two

Please note: Standard domestic Shipping and Handling of $4.00 (media mail plus tracking) is included in the cost of this record. If multiple records are ordered, I will combine shipping and refund the excess shipping cost.