Edison Diamond Disc Needle. $90 plus s/h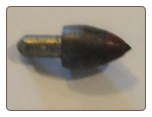 Click to enlarge image(s)
This is a original used Diamond Disc needle, for use in reproducers that swivel to play Edison Diamond Disc records.
I tested the Diamond needle and it was good. If your phonograph reproducer can move to play hill and dale recordings, you will be able to play your Edison Diamond Disc records with this needle. Original needles are hard to find.

New ones were priced at $125 when they were even available.