Roamin' in the Gloamin' ,Harry Lauder on 4 min Blue Amberol. $6.00 plus S/H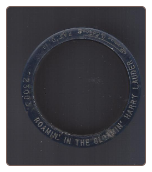 Click to enlarge image(s)
Roamin' in the Gloamin' by Harry Lauder on an Edison 4 minute blue Amberol cylinder record.
Roamin' in the Gloamin' is one of Harry Lauder's more popular tunes. His Scottish brogue, rolling "R's" and laughter made him a popular entertainer.
This record is in very, very good condition.

Please note: Standard domestic Shipping and Handling of $4.00 (media mail plus tracking) is included in the cost of this record. If multiple cylinder records are ordered, I will combine shipping and refund the excess shipping cost.