14 in Witches Hat Horn. $85.00 plus S&H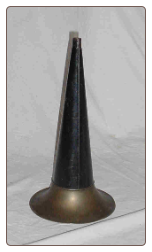 Click to enlarge image(s)
Here is a nice 14-inch long horn for your Edison or Columbia Cylinder phonograph.
I didn't find "Patented" stamped in the steel cone near the brass bell, however I believe that this is an original Witches Hat horn based on the paint and patina on the brass.
There are some small dents and scratches on the paint.
Shipping will be via USPS, Priority Mail, Insured. Shipping and handling is $13.50.
Click here for Elkhorn dates